[3 Jan 2023] — A rebound in trade and local production is expected to drive the Vietnamese economy in the year ahead following positive growth in 2022.
Experts and government officials have acknowledged the encouraging outcomes that were attained in the macroeconomic picture last year, especially in the context of increased geopolitical tensions and difficulties in global markets seriously affecting the performance of the Vietnamese economy.
"Thanks to the government's flexible policies, supporting individuals and enterprises, ensuring social security, and the great consensus and solidarity of all units, agencies, and localities, economic activities in Q4 and the entire 2022 have reaped positive outcomes," said Nguyen Thi Huong, general director of the General Statistics Office (GSO).
According to the GSO, the economy is estimated to climb 5.92 per cent on-year in Q4, higher than the on-year 5.17 per cent in the same period of the previous year.
The growth rate for the whole 2022 is estimated to be 8.02 per cent – with an expansion of 5.03 per cent for Q1, 7.72 per cent for Q2, and 13.67 per cent for Q3. Such increases have reflected domestic production strongly bouncing back from 2021.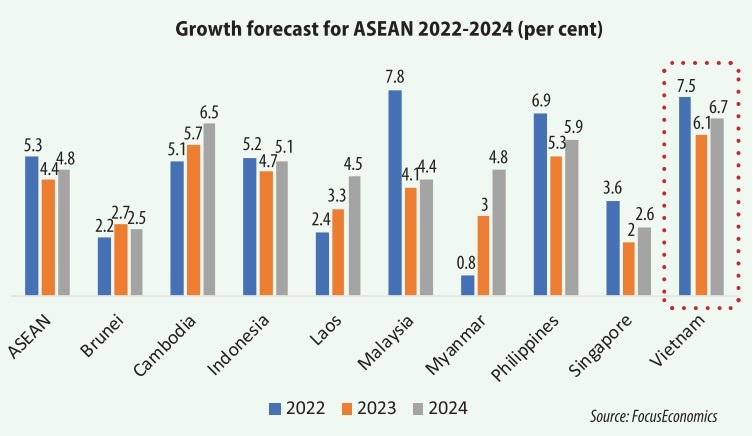 Encouraging signs for 2023
In 2022, the growth rate was 3.36 per cent for the agro-forestry-fishery sector (higher than 2.58 per cent in 2021), 7.78 per cent for industrial and construction (higher than 4.05 per cent in 2021), and 10 per cent for the service sector (higher than 1.22 per cent the previous year).
"Vietnam should remain ASEAN's top performer in 2023 (see chart), despite projected softer growth. Slowdowns in private consumption, investment, industrial activity, and exports will all weigh on activity, but faster government spending growth, the relocation of firms from China and a revival in tourism will provide support," global analyst FocusEconomics told VIR.
The GSO reported that the economy's 12-month commodities export-import turnover is estimated to be $732.5 billion – up 9.5 per cent on-year. Export turnover stood at $371.85 billion – up 10.6 per cent, and the import turnover stood at $360.65 billion – up 8.4 per cent. There has been a trade surplus of $11.2 billion for the whole year - which is contrary to the trade deficit of $1 billion that was expected earlier in 2022.
Vietnam consecutively recorded a trade surplus in 2022, at $809 million in Q1, $1.28 billion after six months, $5.7 billion after nine months, and $10.6 billion after the first 11 months.
All trade achievements have been thanks to consumers' high spending, and tax reduction and removal under free trade agreements' commitments, the GSO said.
The key contributor to the trade surplus in 2022 is foreign-invested enterprises (FIEs). Their total export-import turnover was $511.62 billion, including $276.76 billion in export turnover (including crude oil exports) – up 12.1 per cent over the corresponding period last year, and $234.86 billion in import turnover – up 7.5 per cent on-year. FIEs' 2022 trade surplus hit $41.9 billion - up from $29.36 billion recorded in the previous year.
According to the GSO, the biggest driver of Vietnam's export turnover is the shipment of mobile phones and their spare parts, which fetched $ 59.29 billion, up 3.1 per cent on-year.
Manufacturers of computers, laptops, and many other electronic products, such as Samsung, LG, Canon, and Intel have exported these products with total turnover of $55.24 billion in 2022, up from $51 billion in 2021.
"The socioeconomic situation in Vietnam has steadily recovered, and witnessed encouraging progress over the past months, as the pandemic has been brought under control and the economy is bouncing back," stated Prime Minister Pham Minh Chinh. "The confidence of investors and enterprises are also increasing."
In the January-December 20 period, the total registered foreign direct investment hit $27.72 billion, down 11 per cent on-year, and disbursed capital touched $22.4 billion, up 13.5 per cent on-year.
In Q4, the number of newly established businesses reached 148,500 registered at $69.17 billion, using 981,300 new labourers. These are up 27.1 per cent in the number of enterprises, down 1.3 per cent in capital, and up 14.9 per cent in labourers.
"These statistics show that though current hardships remain, the economy, with its solid macroeconomic foundation and stable major balances, is still capable of offering vast potential, advantages, and drivers for future growth," PM Chinh stressed.
FocusEconomics is seeing great potential for Vietnam's industrial production. It said, "Of the key subsectors, manufacturing growth remained by far the strongest, supported by the country's attractiveness as a low-cost manufacturing base for foreign firms - particularly those looking to diversify supply chains away from China. Meanwhile, the trend improved sizably, with the annual average growth of industrial production coming in at 16 per cent in November, up from October's 15.3 per cent."
FocusEconomics Consensus Forecast panellists estimated that Vietnam's industrial output will grow 6.8 per cent in 2023 and 7.9 per cent in 2024.
According to the GSO, Vietnam's added value of industrial production climbed 7.69 per cent for the whole of 2022, up from 4.82 per cent in 2021. The manufacturing and processing sector increased 8.1 per cent over the same period the previous year, when this sector climbed only 6.37 per cent.
Over a week ago, HSBC raised its 2022 growth forecast for Vietnam from 7.6 to 8.1 per cent, a prediction that if manifested would make the country the second-fastest growing economy in ASEAN behind Malaysia.
Despite regional and global gloom, the Asian Development Bank (ADB) with its own calculations has revised up its economic growth forecast for Vietnam to 7.5 per cent in 2022, from 6.5 per cent as projected in September.
ADB experts noted that while the Vietnamese economy is now performing well amid global uncertainties, risks to the country's economic outlook have expanded. The bank said that although domestic trade continues to increase, there are indicators of weakening global demand for the country's exports. Moving forward, growth for 2023 has therefore been adjusted down to 6.3 per cent as major trade partners weaken.
PM Chinh also stated that in 2023, difficulties will continue to challenge the Vietnamese economy, even if there are some bright spots on the horizon. "We are not wavering, nor neglectful. Instead, we must stay calm and have a firm grasp of the situation to find solutions," he said – The Vietnam Investment Review.