[27 Mar. 2017] – Business played a critical role in making the country more resilient to climate change. In an effort to raise the awareness of the business sector and enterprises in Vietnam to step up actions and measures in response to risks and opportunities related to climate change, a White Paper on Natural Disaster Risks, Climate Change and Responses by Vietnamese Business has been composed by Economica Vietnam under the cooperation between Vietnam Chamber of Commerce and Industry (VCCI) and The Asia Foundation (TAF).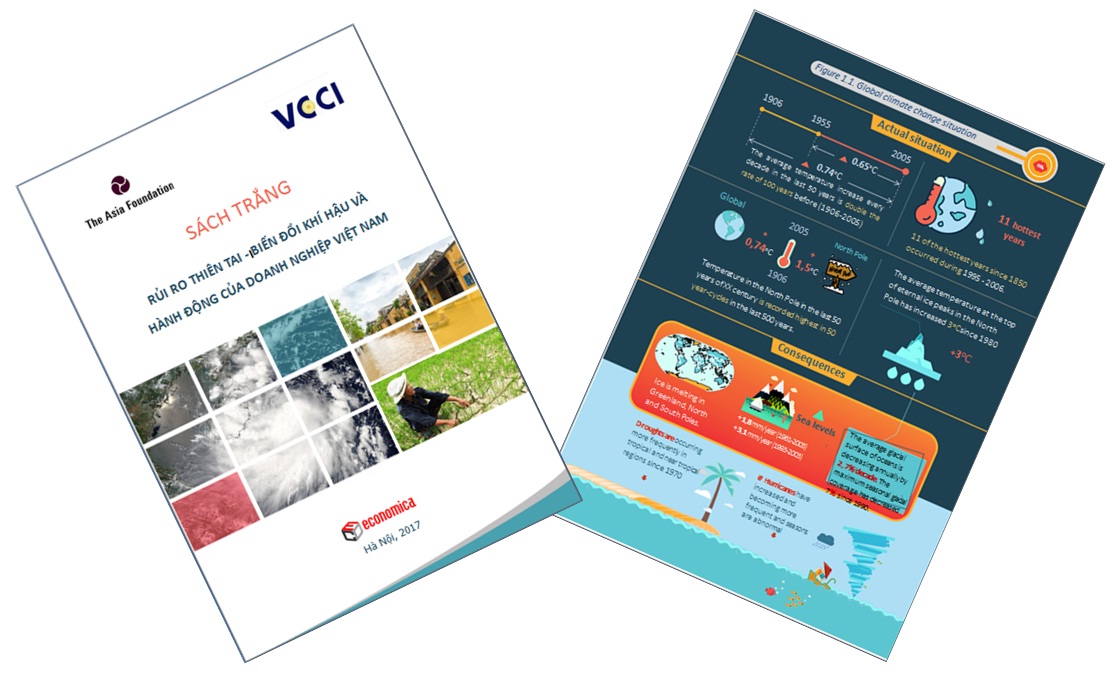 In 2016 alone, extreme weathers caused great losses to Vietnam with the historic cold waves in 14 northern provinces, droughts and salty intrusion in provinces in central and Mekong delta areas, late raining and historic floods in central regions. According to the Central Committee for Flood and Storm Control, as a result of natural disaster and climate change, 1 million people do not have access to clean water for daily lives, and 300,000 hectares of rice is lost from 30-80% of productivity, and hundreds of peoples have died with the total value of economic damage of 37,650 billion VND (equivalent to 1.7 billion USD).


Negative impacts of climate change on businesses include: businesses risking to go bankruptcy, profit reduction, production interruption, reduced demand from customers and market, reduced production capacity, increasing capital costs, increasing production costs and so on. However, climate change also brings about opportunities to businesses.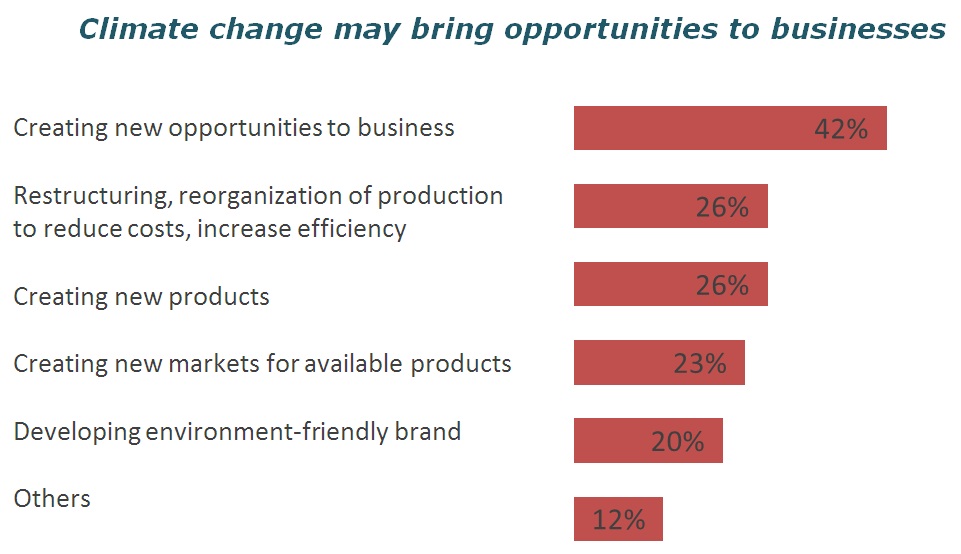 Source: VCCI, TAF and Economica Vietnam (2016)

The white paper discusses multiple case studies and models of climate change adaptation of Vietnamese businesses including energy saving and emission reduction of manufacturing enterprises. For example, Ha Tien Cement Plant uses energy discharged from its production line for electricity generating. Aquaculture businesses change production modalities to adapt to drought and increase level of salinity. Many businesses in the Central Highland are shifting to advanced watering system for saving water to cope with droughts and saline intrusion.
Higher temperature is detrimental to crops. However, some regions of Vietnam now become more suitable for raising animal such as sheep and goat with higher value and income that plant cultivation. Sheep raising in Ninh Thuan and Khanh Hoa now account for over 98% of the province's production output. Forestry enterprises increase the provision of forestry environment services in which from 2011 – 2016 the enterprises and participating households has got an income of VND 4549.6 billion.
The manufacturing businesses can seize the opportunity of a change of the global supply chain caused by climate change. Development of renewable energy is one of the priorities to tackle the energy challenge. Vietnam enterprises have the opportunity to be able to participate in the development of wind power projects. The White Paper tells the story " Business opportunities for Vietnamese businesses to engage in the global supply chain of General Electric (GE)'s wind power development program in Vietnam". Construction material producing businesses also can seize opportunities to save energy in the production of construction materials as the model of non-burn brick production which help to reduce CO2 emission and waste treatment.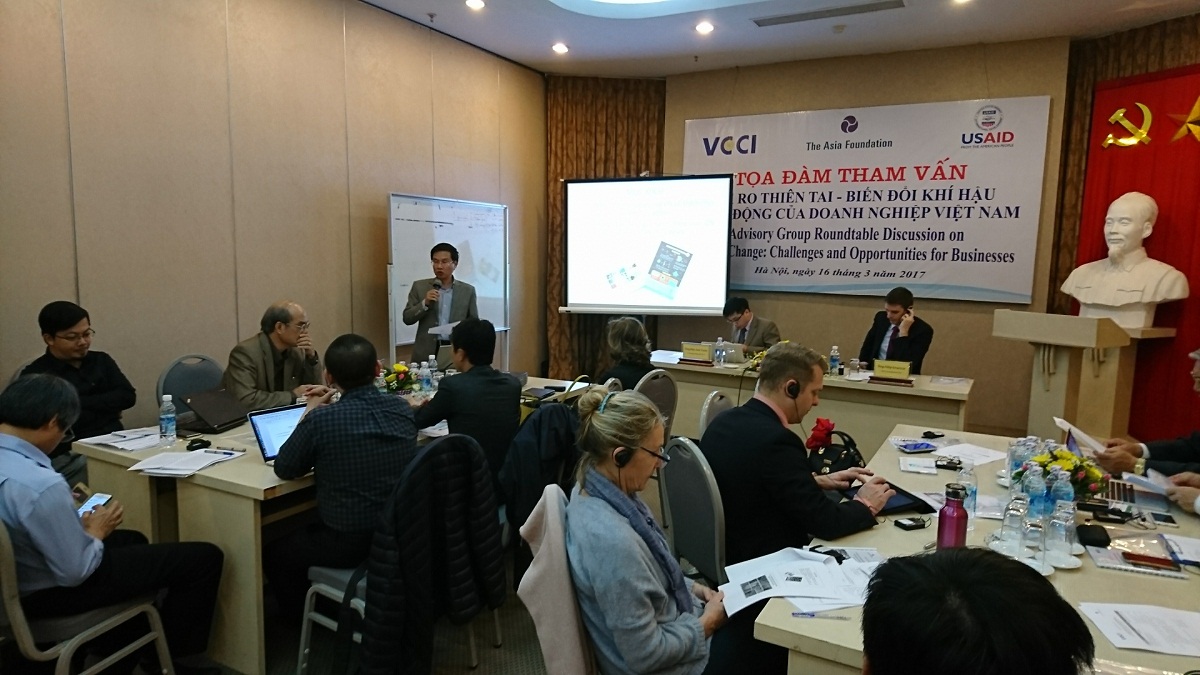 The banking, finance and insurance sectors has been developing new products to help community to transfer and share risks of disaster and climate change. The white paper shares the story "Quang Nam - The whole village buy insurance policies for cattle".
The white paper calls for actions and measures by the business sector to adapt to the challenges and to seize opportunities of climate change. The paper also makes some recommendation on policy to the Government and other stakeholders for reinforcing the efforts of businesses.
The first draft of the White Paper has been presented by Economica Vietnam at a round table with multiple stakeholders in mid-March 2017. A similar round table will be implemented in Ho Chi Minh in May to consult with businesses, business associations, government agencies, NGOs, academia before it is officially published.